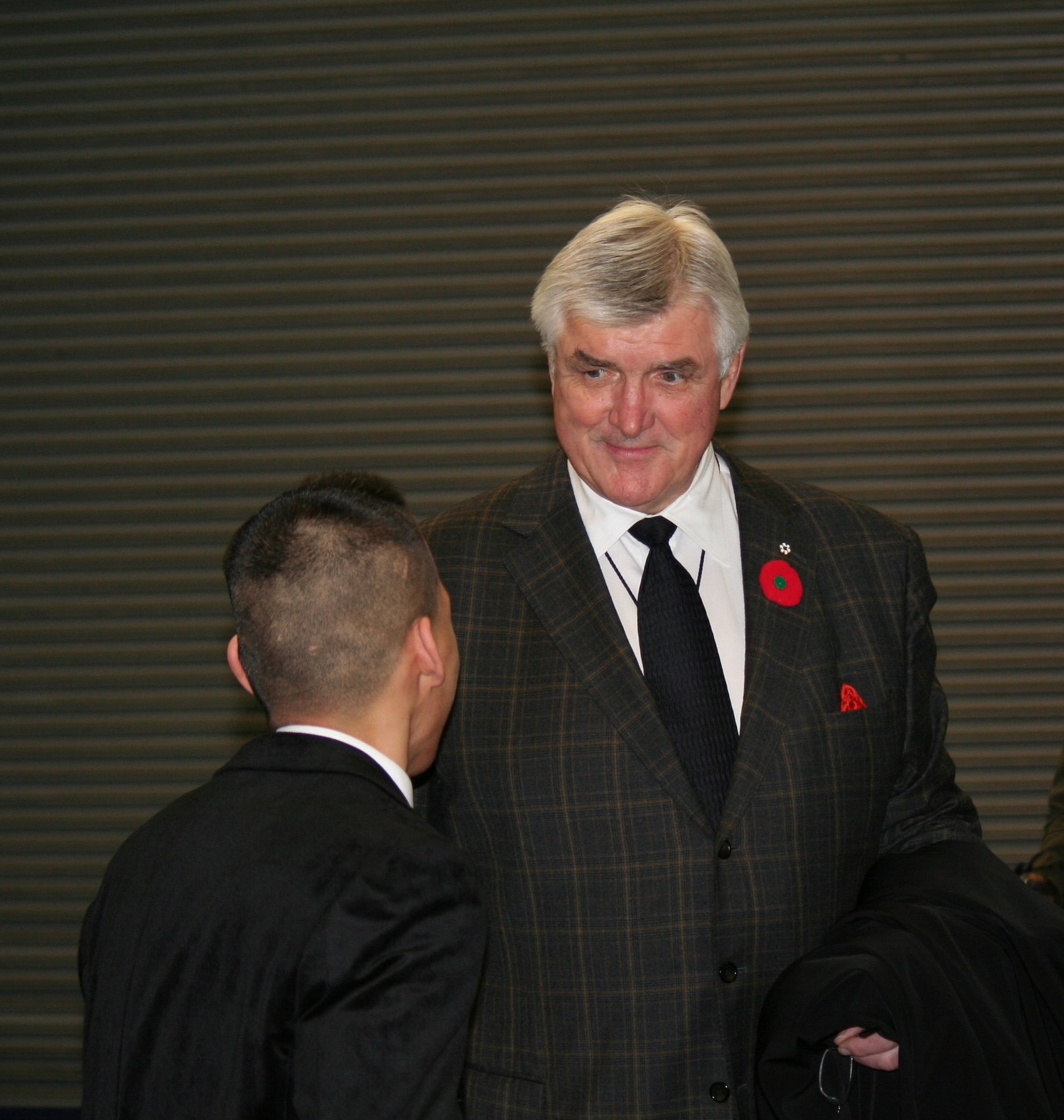 The Impact of Pat Quinn
Pat Quinn had a large impact on many people's lives, on and off the ice.
Many Canadian kids dream about playing in the National Hockey League and winning the Stanley Cup. It was no different for a young Vancouver boy.
The only thing was, there was no way this lad could ever live that dream, all because of a disability called cerebral palsy that affected his walking.
He wasn't going to quit on his dream, though, so he decided to work in media as a writer and cover a team in the NHL. If he couldn't play in the NHL, he would write about it. Yes, the young lad could hear the naysayers, but he refused to listen.

Then, in the summer of 2011, he got a phone call from one of his connections. There may be an opportunity to interview some of the Vancouver Giants at their annual training camp . . . would he be interested?
He was.
The young boy arranged to get a ride from Bill Jackson, one of his friends, to the Ladner Leisure Centre, where the Giants held their camp.
The young boy was so nervous he had typed up interview sheets with lists of questions.
He only expected to interview Giants' players and coaches. But once he reached the parking lot, he soon realized that wasn't going to be the case.
"Wait in the car for a bit," Jackson said. "I'll see if the Giants are ready for us."
The boy did what was asked. He sat in the car looking at his interview sheets and waiting for Jackson's return. However, Jackson didn't end up checking on the Giants.
When Jackson was on his way to the entrance of the Leisure Centre, he saw Quinn, who owned a piece of the Giants, waiting for a family member.
"Mr. Quinn," Jackson said.
"Yes?" Quinn replied.
"Do you want to make a young man's life?" Jackson asked.
"What do you mean?" Quinn asked.
"I have someone with me who is here to interview the Giants and I bet he'd love to interview you."
"Absolutely."
After about five minutes Jackson came back to the car to get the boy.
"I have your first interview," Jackson stated.
"Who?" the boy asked.
"Pat Quinn."
The boy was shocked. In fact, he was more than shocked . . . he was scared. After all, the man was a legend.
He didn't have an interview sheet with questions prepared for Quinn.
Then it clicked.
The boy remembered that Quinn had been the head coach of the Vancouver Canucks when they made it to the Stanley Cup final and went up against the New York Rangers. So, he decided to focus the interview on that.
At the end of the interview, Quinn told the boy, "Well done. I hope to see you along the way and best of luck with the rest of your interviews."
He would see the boy along the way, as that young boy grew up to be me.
During my seasons with the Giants, the relationship I had with Quinn grew stronger and stronger.
He always had a smile on his face.
He always spoke to me whenever he saw me and told me to keep going and not to listen to the people who doubted me and that he believed in me. He always made time for me whenever I had questions. He told me to call him if I ever needed anything.
I brought a photo of me and Quinn to one of the Giants games this season, hoping for him to autograph it.
I asked one of the game-crew members, "Is Mr. Quinn here tonight?"
"No," he responded. "I don't think he's doing well. His health isn't great. He's in the hospital."
I didn't ask many questions, thinking it was the respectful thing to do.
I thought he would be OK.
So, I left the photo with Sheldon Arsenault, the Giants' ticket manager, and asked if he could help me get it signed if he saw Quinn come by the front office.
"Yep," Arsenault said.
Quinn never came by, nor will he ever again.
On Monday, at 11:30 a.m., I got a phone call. I had yet to check my emails.
"Pat has died," I was told.
"What?" I said in shock.
I wanted to burst into tears right then, but I waited until after hanging up. It was extremely hard for me to take, and still is. Quinn was not only one of my biggest supporters, but someone who was a friend.
I regret not asking more questions on the day I found out he was in hospital. I couldn't tell him how much he meant to me.
Quinn has made me a better person and always will have a special place in my heart.
He will be greatly missed.
I am extremely fortunate to say that Pat Quinn had a major impact on my life.